We first came across PowerPoint when presentation computer graphics really started to take hold. In those days we had it running on the Macintosh IIcx (which cost nearly £4k!). We avoided using it to design presentations as it had some very annoying functions, which it still does to this day!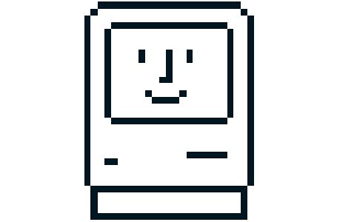 At that time the market for presentation design software was far better from a designers perspective – as we had a massive choice of presentation software both on the PC and the Mac. Here is a small list of ones I can remember using:
Draw Applause
Genigraphics (hideous to use)
Harvard Graphics
Corel Draw
IBM Lotus Graphics
Aldus (Adobe) Persuasion (probably the best presentation software I used)
Macromedia Director (the most flexible)
Visual Business Solutions (first 3D charting software)
These presentation design packages have all but disappeared over time, as Microsoft effectively gave PowerPoint away, which I feel has stifled the development of presentation software. Now you've only one option on the PC, good old PowerPoint! At least on the Mac you can use Keynote, which can be a real delight from death by PowerPoint.
That said, you can still create some cracking presentations with PowerPoint, without resorting to crass clip-art of blood-hounds with magnifying glasses and irritating, irrelevant sound effects. Even better you can combine PowerPoint with other graphic designer tools, such as Photoshop and Illustrator. And what has really improved PowerPoint in recent times, is the ability to insert video clips, as computer speeds have increased. This opens up great opportunities to insert full motion animations and videos into PowerPoint at remarkably high resolutions. Our philosophy is… it's what you bring into PowerPoint that makes the difference, and you don't need to be Dave Gorman to do it, it's the skills of the designers, animators and filmmakers who can bring your presentation to life.