Technology is helping take the stress out of business travel for Mondelez International employees. Giving your business travellers the tools they deserve is a priority for any organisation — better-informed travellers are more productive and safer. Plus the extra benefit of helping to keep travel expenditure under control — especially as travel is one of the most significant controllable expenses for many businesses.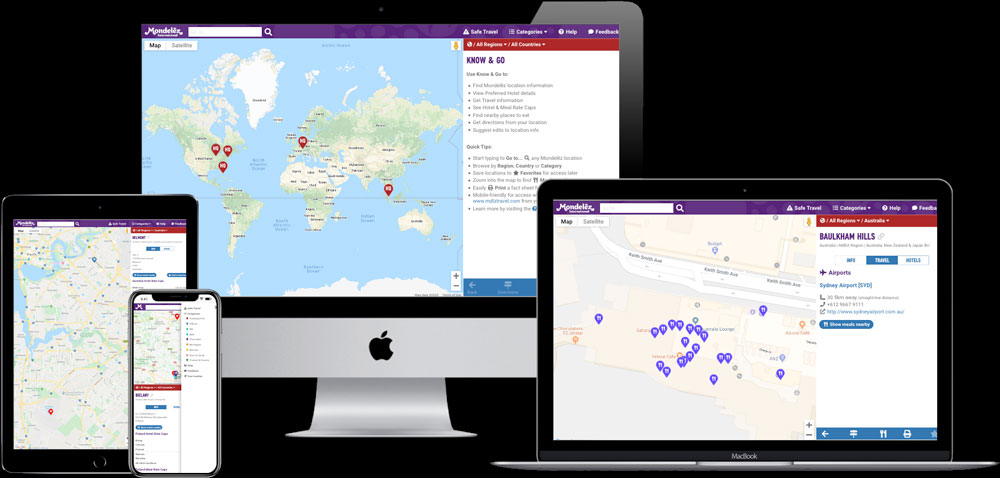 In this map driven app 'Know & Go' — developed by us in collaboration with Mondelez Global Travel Team — you can find information on preferred hotel and ground transport vendors, find the useful local facility and office information. Search for restaurants, shops and airports. All accessible from a mobile phone while travelling or a laptop in the office. This travel tool makes budgeting and planning trips much more informative for the traveller. Up-to-date information is key to making smooth trips. Tapping into Google Maps content makes sure the data is relevant and timely.
Easy to update through user dashboards
Internal data, such as office and production facilities locations, are managed through admin dashboards. Preferred hotels, useful visitor information, currency and country data can be updated by administrators securely through an (SSO) Single-Sign-On, no passwords required when you're logged in to their intranet. The Content Management System (CMS) makes updating instant and straightforward.
Complexities of organising business travel information
Mondelez operates in 70 countries across the globe, with nearly 300 locations and over 80,000 employees. All able to access the tool through their intranet. The complexities of organising travel information in an easy to use interface were critical to the project's success. The user interface (UI) we developed follows the norms of mobile-first design principles. Feedback from users — gathered within the app — has been very positive. App usage has increased 100% over the last twelve months since launch.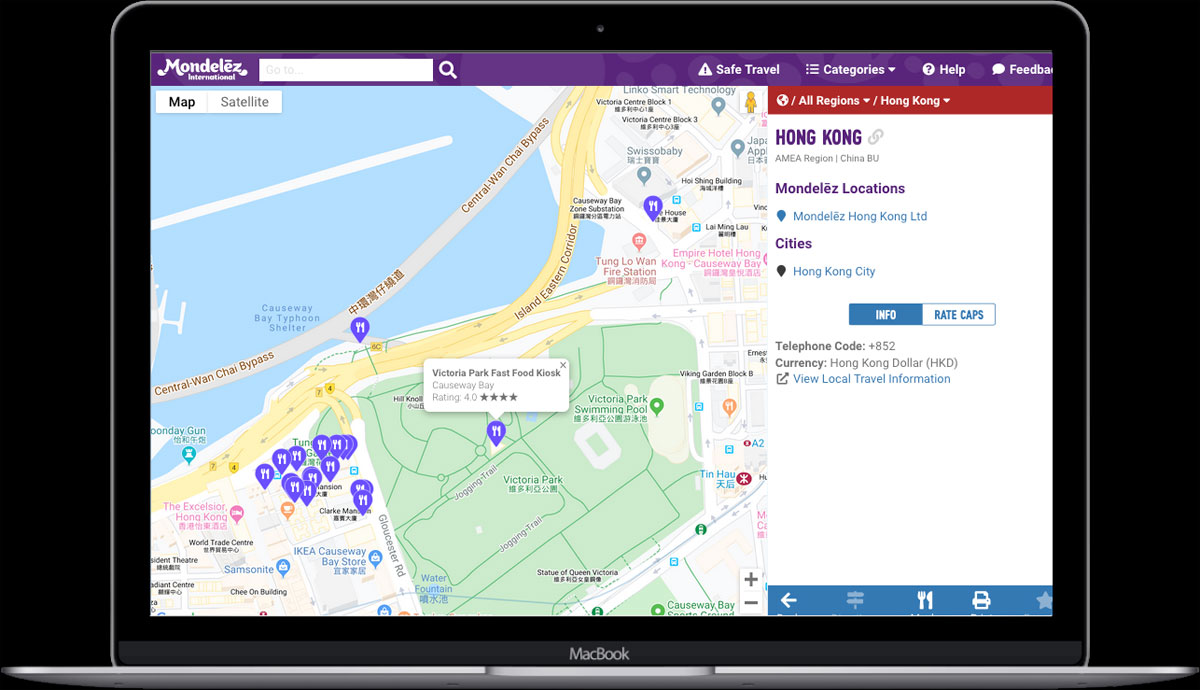 Evolving technologies driving new business needs
We designed the original software as a location map website for Kraft offices. Primarily as a database of their European locations, contact details and brand information for their corporate events team in 2005. Pre-Smartphones!
In subsequent years this has been adapted to include hotel and travel information for their employees, or when planning and budgeting business travel. We incorporated information on trip safety guidance for unstable countries and regions.
Mobile-friendliness became a priority for travellers as smartphones became the norm! Hence the reworking of the front-end application interface.
We deliver projects on time and budget!
Rewriting the application for responsive mobile-first smartphone browsing was a considerable task. However, we were able to use our existing database structure and desktop website admin interface, keeping costs down – and more importantly, delivering the project on time and budget!
User-friendliness is a must for any app
User-friendly, data-driven technology solutions are crucial to ensuring every Mondelez business traveller has excellent experience planning, travelling — and more importantly, a safe return home.
We hope 'Know & Go' will help them deliver those great travel experiences in the future.
TurnRound have lots of expertise in developing mapping applications in the travel sector. Please do get in touch.